We have frozen pickles
This past weekend I volunteered at the 2015 Mountain Lakes 100. So. Much. Fun.
It was my first time volunteering and a wonderful experience. As with every ultra I've been a part of, everyone was awesome. I may be a quiet, introverted fella, but these are my people.
How it went down
I worked at the Pinheads Aid Station, or Aid Station 15, at mile 89. At the AS with me were Claire (AS volunteer), LaGrande (HAM radio operator), and Eric (HAM radio operator). Each of them was fun, super kind to the runners, and simply good people doing a good thing.
Our shift began at 8:00pm and was scheduled to go until 10:00am. We didn't see our first runner until nearly 10:30pm, so for the first couple hours we acquainted ourselves with the supplies, got to know one another, gathered wood for our fire, and waited. It was pretty damn cold.
After the first person arrived at the AS we had a fairly steady stream of runners to help througout the night. By steady stream I mean we'd see a runner, often with pacer, every 20-30 minutes. Sometimes there would be a small cluster, sometimes the gap between runners was a bit longer. We did our best to help and encourage all the runners. We stayed close to the fire otherwise.
We finished tearing down the AS around 12:30pm on Sunday. Claire, a runner who dropped at our AS, and I took the rough road back to the Clackamas Ranger station. Upon arrival we unloaded the car.
18 hours after the fun began, Claire and I said our goodbyes and my first ultra volunteering adventure was complete. The drive back to Portland was pleasant as my mind wandered and settled on the prospect of running next year's Mountain Lakes 100.
Sincere thanks go out to Claire, LaGrande, Eric, all the runners, and Go Beyond Racing. I enjoyed the experience beyond words and am forever grateful. It really is true, you get a lot more by giving.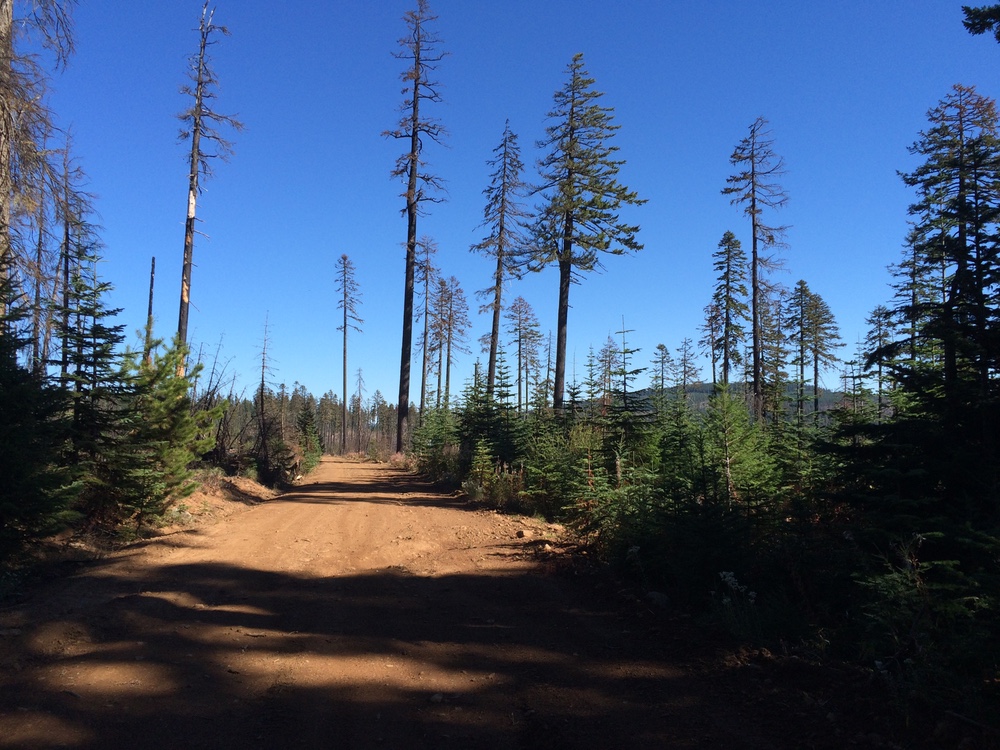 View from Pinheads Aid Station at the Mountain Lakes 100
Observations from the race
The Top 10 runners or so were clearly racing. Everyone thereafter had a different vibe and seemed generally unconcerned about their position.
Every single runner was nice, polite, and pleasant despite having run 89 miles, hurting all over, and chasing cut-offs. I can't recall a single person that didn't thank us for volunteering.
Come the last quarter of a 100-miler runners are absolutely sick of eating…anything and everything. They all knew they needed to eat but they clearly wanted something beyond the usual fare.
Pacers were attentive, fun, and runners clearly benefited from their presence. It was heart-warming to see people helping one another in such a raw, real way.
Some runners were clearly mentally zapped, perhaps even more so than physically. There were some who appeared to be doing quite well, as if they were at the end of a 10k. Surely they were hurting, but their minds were sharp and it showed.
Being prepared, for runners, is paramount. It was shocking to see how unprepared some runners were for the cold weather. Seriously, grab a jacket, Yo.
By paying attention to the HAM radio communication you can get a sense of travel times to and from your AS. It will help you prepare for any waves of runners and answer questions from runners. (i.e. How far is it to the next AS?)
Know the mileage and topography. "Is it uphill or downhill?" Runners will ask.
Go Beyond Racing puts on wonderful races. It was well-organized, well-staffed, the course was well-marked, etc.
"Do you have any of those quesadillas like they had at that other AID Station?", we were asked countless times.
"No, we don't…but we DO have FROZEN PICKLES!", was our somewhat-well-received response. I'm sure they would have preferred something yummy over humor.
Summary
Volunteering at this race was wonderful. Without question, I will volunteer at another race, particularly Go Beyond Racing events. I highly encourage you to volunteer, for anything associated with your passions. You'll likely get more out of it than you imagine.
P.S. Thank you, Subaru, you make kick-ass cars.